The 2021 Subaru Love Promise Community Commitment Award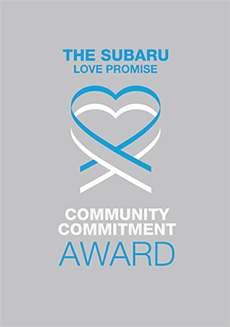 We've been nationally recognized for our dedication to our community and the Subaru Love Promise.
We're honored to receive the 2021 Subaru Love Promise Community Commitment Award. This award nationally recognizes Subaru retailers who are making the world a better place while demonstrating an outstanding commitment to supporting passions and causes in local communities. These efforts are focused in important areas such as the environment, community, health, education, and pets.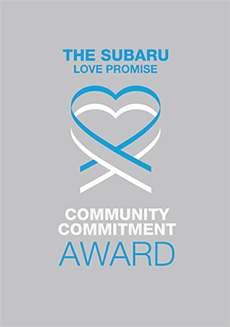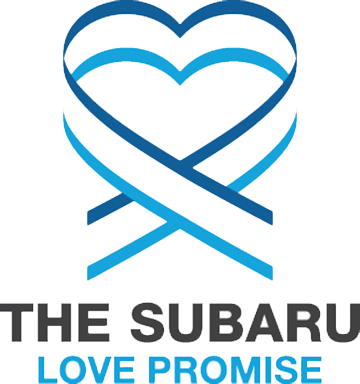 What is the Subaru Love Promise?
Subaru and our retailers believe in making the world a better place and the Subaru Love Promise is our vision of respecting all people. This is our commitment to show love and respect to our customers and to work to make a positive impact in the world.
How is AutoFair Subaru of Haverhill dedicated locally to the Love Promise?
Our Love Promise can be seen in various partnerships with local charities and non-profits. We're grateful for the opportunity, not only to be a part of our community, but to serve it as well.
Veteran's Northeast Outreach Center, Make A Wish Foundation, Boys & Girls Club of Greater Haverhill
Exeter Hospital's Center for Cancer Care, The Leukemia & Lymphoma Society
Love Promise Stories from AutoFair Subaru of Haverhill
Subaru and AutoFair Subaru of Haverhill believe in making a positive impact on the communities in which we live and work. We uphold that belief through our Love Promise Community Commitment. Every month, we select inspiring stories from customers and partners from around our area who strive to support our collective commitment and feature them here
Fueled by Kids - Daniel W
In 2016, Fueled by Kids was started by local students who saw a need in their communities to help children with food insecurity. For many children, they don't know if they will have anything to eat during the 67 hours between when they get lunch Friday afternoon and when they have breakfast Monday morning through the National School Lunch Program. Fueled by Kids provides over 470 students (and over 600 during COVID) with food during that time. As part of their response to the COVID crisis, they were able to provide over 600 students with food over the entire summer. AutoFair has been a proud sponsor and were so proud to be a part of the Farm Fair Fun event.
---
Veterans Northeast - Matthew C
In May of 2020, the Veterans Northeast Outreach Center received $12,750 as part of the Share the Love program. The funds were put to immediate use to provide services to veterans and their families, including food, household items, counseling, peer support, advocacy, and more.
---
SARL & Subaru Loves Pets Helps Homeless Animals - Connie Y
Salem Animal Rescue League (SARL) extends a big THANK YOU to AutoFair Subaru and Subaru of America, Inc. for partnering with SARL during the October Subaru Loves Pets event! AutoFair Subaru is generously donating $100 for every dog or cat adoption at SARL from October 1, 2020 through October 31, 2020, up to $3100 in total. Because of the generous support of AutoFair Subaru in Haverhill, MA, SARL has been able to continue to save the lives of abandoned, neglected and injured animals by providing a safe haven, compassionate care, and new permanent homes for them. The funding provided to SARL is needed and essential to continue the much need medical services so that an animal can be adopted. The road to adoption for many of these animals is difficult. Cats and dogs who arrive at SARL are often afraid and lonely. Many have never known the love of a caring person, good health and food, or a permanent and safe home. Some have lived on their own and without a real home and others have lost the home that provided care, health, food, and love. These animals have often traveled many miles to come to SARL. Once they arrive at SARL, their lives begin to change. They learn or remember to feel safe, secure, and loved. When that special person or family comes to SARL for a cat or dog they hope to adopt, there is often a connection between the animal and the person. Cats and dogs feel the bond with humans and this leads to adoption and a new permanent forever home. The AutoFair Subaru Loves Pets partnership event has helped to make successful cat and dog adoptions happen. Every day, SARL is called upon to make a difference in the lives of animals and the support of AutoFair Subaru greatly helps SARL do that for our furry friends. The SARL adoptions make a difference and have an impact on the lives of individuals and families who open their hearts and homes to a adopt cat or dog. The cats and dogs find their forever homes and the special companion who will give them safety and love. Individuals and families receive love and companionship from their new furry friends. Thank you, AutoFair Subaru, for loving pets and for having a significant impact on the cats, dogs and those in our communities!
---
Emmaus Sharing the Love in Haverhill - Ryan K
Since 1986, Emmaus House has provided emergency shelter, affordable housing, and housing transition services to the community of Haverhill. 2020 has been a year where the need for organizations like Emmaus are needed more than ever, and AutoFair has continued their support through Share the Love.
---
Nevins Farm - julia p
The MSPCA at Nevins Farm is an independent organization, which means that we don't receive any state, federal or local dollars – which means that our community is incredibly important to us keeping our missing moving forward. We are really fortunate to have a great community around us, which includes AutoFair Subaru! Their help showcasing our available animals helps us not only find new homes for animals in need, but also reminds our community of the work that we do; which is tremendously valuable. Julia Pesek Event & Marketing Coordinator MSPCA at Nevins Farm 400 Broadway Methuen, MA 01844
---
Love is Home - matthew c
Emmaus House in Haverhill, MA is a place where everybody matters. Homelessness can happen to anyone, and their mission is to provide assistance in getting people back on their feet with immediate and long-term solutions through emergency shelters, affordable housing, job training, and more. Emmaus House was established in 1986 as an emergency shelter, and has expanded into several multi-family facilities to help those in need. Over the past three years, Emmaus has placed nearly 500 homeless families in stable housing, and helped hundreds more stay in their own homes. AutoFair Subaru of Haverhill has donated monies during the 2019 Share the Love event to help aid Emmaus House in furthering their mission to provide safe shelter, and providing assistance to those in need to get back on their feet.
---
AutoFair Subaru Supports Celebrating Haverhill - Amy M
Northpoint Bible College held it's second annual Celebrating Haverhill in September of 2019. Thank you, AutoFair Subaru for your donation of backpacks for this event. You made it possible to celebrate and serve the people of Haverhill with excellence. With your generous donation, over 1000 people were fed and over 500 filled backpacks were given away to families in need. We provided free haircuts, televisions, bikes, games and more! It is so important to come together and serve the needs of our community and we are thankful for businesses such as yours whose support make events like this possible. We look forward to a continued partnership in building a stronger community!
---
Subaru Loves to Care - Laura W
Thank you to Subaru of Haverhill for donating warm blankets and message of hope cards on July 24, 2018 to Exeter Hospital cancer patients. Because of this ongoing partnership, the connection between the employees at the hospital and the Subaru staff is strong and they have mutual respect for eachother for helping in the community. The Leukemia and Lymphoma Society is grateful for all Subaru of Haverill does for the community.
---
Thank you for sharing the love! - amy h
As the result of a partnership between AutoFair Subaru and the Leukemia and Lymphoma society, patients at Exeter hospital received a donation of blankets and craft kits. Representatives from AutoFair Subaru and LLS were able to meet the Oncology physicians, and tour the cancer center. During the tour, they were able to meet some of the patients and present them with blankets. One patient, upon getting her blanket, stated that she owned a Subaru, and was proud of it. Also, during the tour, hospital staff discussed the art therapy program they have to help the patients cope, and showed off some of the artwork. The donated craft kits will certainly be put to good use at Exeter! Thank you AutoFair Subaru for helping to share the love!
---